iMovie for Windows - Best Alternatives Found
iMovie is a free video editing program developed by Apple exclusively for Mac, iPhone, and iPad devices. It has an uncluttered interface, comes with a rich collection of effects and transitions, and is beloved by videography enthusiasts.
But what if you don't own an Apple device? Can you use iMovie on a PC somehow? Unfortunately, no. But if you still want to try this application on your Windows computer, there are dozens of options on the market that are just as good or even better than iMovie. Below, you will discover the 7 best alternatives to iMovie for Windows. Here are the main characteristics of iMovie that we have looked for in other programs:
Undemanding in terms of hardware
Suitable for quick and basic editing
Easy to use, even for novices
Well-equipped with tools & features
Available completely free of charge
Now, let's explore the iMovie alternatives for Windows in detail. Each program has its own benefits and downsides, so read on and choose the one you like most.
1. Clipchamp - Best for free and simple editing
Clipchamp is a free video editor from Microsoft that can be used online or as a desktop application for Windows 10 and later. Along with basic features such as cutting, cropping, rotating, and splitting, the program lets you loop clips, speed up or slow down footage, add or remove audio, and even overlay filters and transitions.
This iMovie equivalent for Windows also comes with some pro-level tools, allowing you to edit green-screen videos and turn text into speech. You can save your creations in HD and upload them to YouTube, TikTok, or cloud storage. Although there are many reliable features, the process of editing and exporting videos can be quite slow.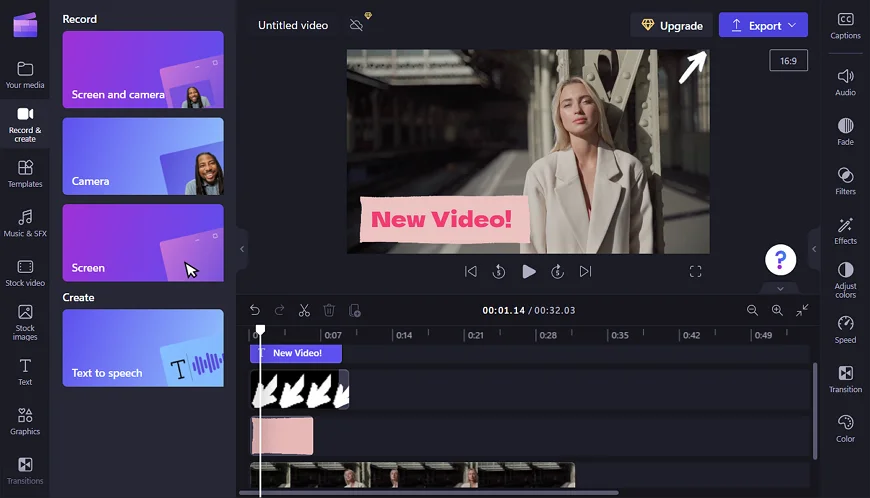 Pros:

Template library for quick video creation
Screen and webcam recording
Built-in stock media collection
Simple workflow
Cons:

Can be sluggish sometimes
Most stock media is subscription-based
Conclusion: Clipchamp is fine for uncomplicated editing, but it can't match the power of a full-featured editing suite. So, if you're a serious videographer, look for other options.
2. Clipify - Best for novices and pros
Clipify is feature-rich video editing software for Windows 7 and newer. With this program, you can crop, split, sew your clips, apply over 160 special effects, add customizable title card templates, and accompany footage with 200+ royalty-free music tracks. Besides, you can make PiP montages, record screencasts, and export your creations for YouTube, Facebook, smartphones, TV, and DVD.
Even if you are a complete newbie, you can start editing right after downloading the program thanks to the user-friendly interface, a Video Wizard tool, and online tutorials. For experienced users, this software offers advanced features such as Chroma Key, stabilization, Tone Curves, voice & webcam recorders. What's more, unlike some other Windows equivalents to iMovie on the market, it doesn't take up much space on your hard drive.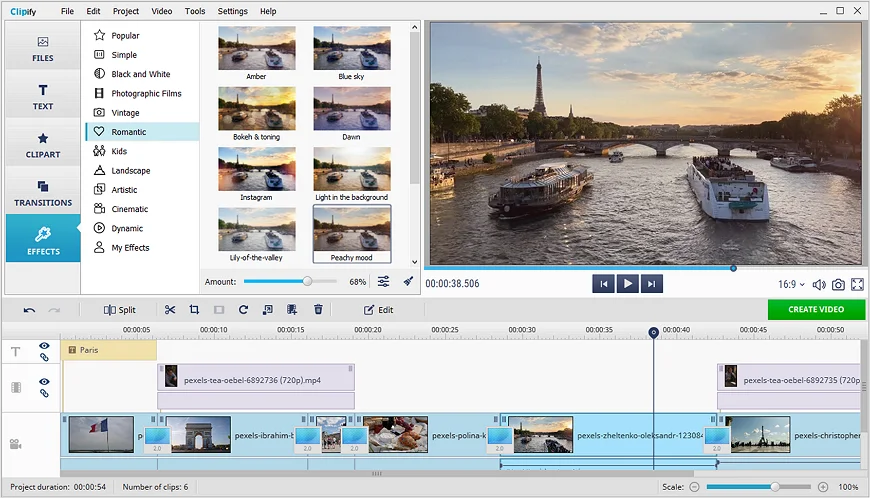 Pros:

Chroma Key editing feature
Automatic video stabilization
Video Wizard for beginners
Webcam & voice recording tools
HQ export in 30+ formats
Cons:

Some features are only available in the Pro version
Conclusion: If you're searching for a reliable video editor to make eye-catching movies, then Clipify is the right choice. Regardless of your skill level, the software has everything you need to edit videos fast and without hassle, even in the free version.
3. OpenShot - Best for basic video editing
OpenShot is a free and open-source video editor like iMovie for Windows that is easy to use for newbies. This program lets you make simple adjustments to your footage, from splitting and trimming to automatic enhancement. You can also adjust brightness, contrast, and saturation, drag and drop special effects, and add transitions to spice up your footage.
To start editing right away, OpenShot has handy pop-up tips. With just a few clicks, you can also access some pro-level tools such as Chroma Key and stabilization. As for drawbacks, the software has limited functions for complete post-processing compared to iMovie and some other video editors, yet enough for quick and basic edits.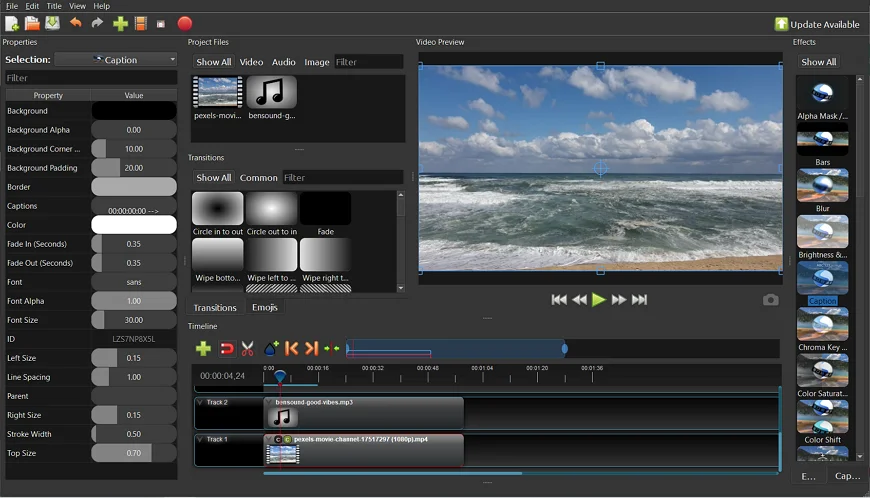 Pros:

Uncomplicated interface
Timeline with unlimited tracks
Dozens of effects and transitions
Cons:

Limited functionality
Can crash sometimes
Conclusion: OpenShot is handy if your video doesn't need in-depth editing. For professional videographers, however, the program's modest feature set won't give the results expected from some of the more popular programs on the market.