Free Automatic Video Editor
for People of All Skills
Cut & sew your clips, change their speed, improve video quality
Swap background with Chroma Key, add 450+ effects and titles
Export movies in Full HD, upload to YouTube, or burn to DVD
Free Download
For Windows 11, 10, 8, 7
Awesome Movies in a Few Clicks. Even on a Slow Computer
Have hours of footage from family gatherings or vacations? Why let them go to waste when you can turn them into gripping short movies? Don't worry, you don't need a film school degree to make it happen. All you need is Clipify, an automatic video editing program. Developed for people of all skills and computers of all grades, this free software will give you everything you need to create awesome movies all by yourself. Let's have a look at all the tools you can get access to!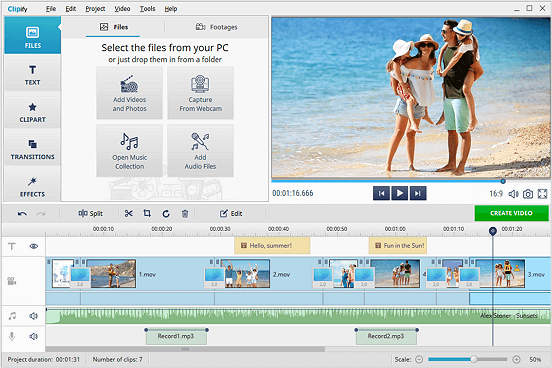 Auto Video Creation
Want to make a jaw-dropping movie in just 5 minutes? Then start this video creator and choose a theme. There are templates for lots of occasions - weddings, kids' birthdays, vacations, Christmas, etc. Next, add your videos, accompany them with a soundtrack - and bam! - your movie is done. Just trim some lengthy clips if needed and add text to the title cards.
150+ Spectacular Effects
Your video could use some zest? This free program offers you 150+ eye-catching effects and filters. Give your movie a delicious retro vibe with vintage effects, render your footage black and white or sepia for a more stylish finish, recreate the color palette of a popular movie or an art house flick, add fog, flames, sunbeams, sparks, or glow - all of that in a click.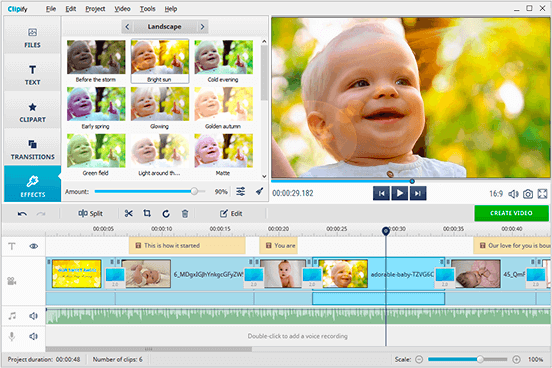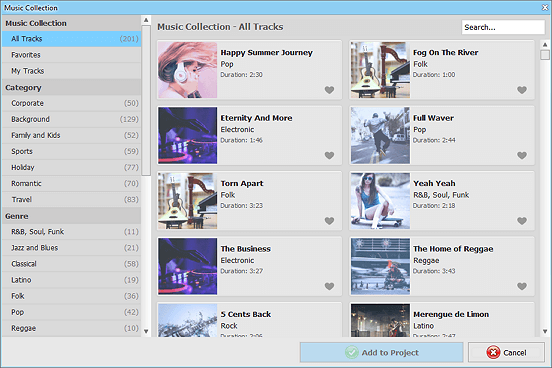 Built-In Music Library
Don't have time to look for the proper soundtrack? This automatic video editor has over 200 royalty-free music tracks you can use. There are tunes of all genres, moods, and tempos. They are all divided into categories for your convenience. Epic and dynamic, serene and mellow , melancholic and emotional - you are sure to find the perfect track for your movie.
Chroma Key Feature
Have a video shot against a plain background or a green screen? Automatically
swap its backdrop
for a more gripping one. Clipify offers you the nifty Chroma Key tool that you can use like a true movie wizard. Just a few clicks and you will be able to send your video subject to an enchanted forest, exotic beach, haunted castle, or an abandoned space station.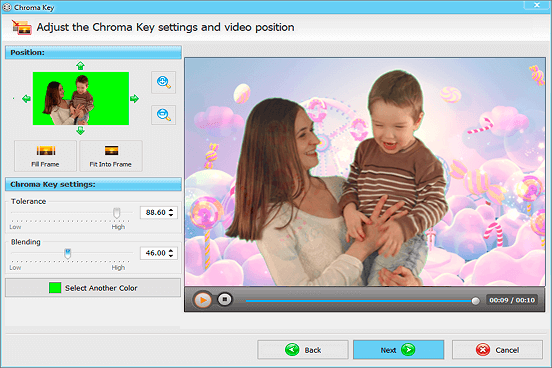 Ditch Complex Softwares. You Have Auto Video Editor Now
Can't believe that a lightweight movie maker can have that many nifty tools and features? Then have a look at these video proofs.
Chroma Key
Change a plain background of your video in a snap
Effects & Filters
Stylize your footage with dozens of gorgeous effects
Cool Transitions
Create a smooth flow with gradients or curtain wipes
Title Cards for Days
No title card - no movie. Make sure to add one
Video Quality Fix
Improve your footage quality in terms of color and tone
Stabilization
No hand-held camera effect - get rid of shaking with ease
Video Templates
Create a video greeting card for X-mas, birthday, wedding
Webcam Capture
Record yourself with your webcam and edit the footage
Why Is Clipify Worthy of Your Attention?
Most video makers are insanely hard to grasp. Moreover, they are insatiable when it comes to hardware. Clipify is a different story. Thanks to the auto video editing approach, it doesn't require hours to master. A school kid, a stay-at-home mom, or an elderly user - all will have fun creating videos with Clipify. Besides, it works fine even on low-end PCs so you won't have to buy new equipment just for movie making.
Free Download
For Windows 11, 10, 8, 7
How to Jump-Start Your Movie Maker Career with Clipify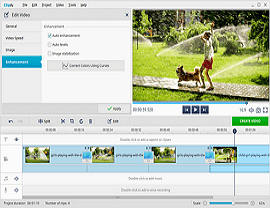 Step 1
Add your footage to the Timeline. Automatically enhance its quality
Step 2
Cut, trim, and glue your clips together. Add animated title cards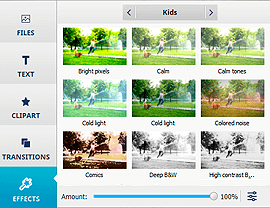 Step 3
Apply stylish effects: retro, bokeh, lomo, etc. Add transitions to set the pace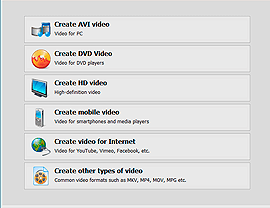 Step 4
Save your video for TV, iPad, smartphone. Upload it to YouTube & Facebook
Best Toolkit for Easy Movie Making
We can't promise that you'll create the next Citizen Kane or Ben-Hur with Clipify. But what we can promise is that you'll be able to make sweet family, vacation, or holidays movies. Have a look at how this automatic video editor for PC can help you with that.
Editing & Enhancing Tools
Cut, trim, and stitch with ease. Rotate the footage. Enhance video quality in a click.
Color correct
with Curves.
Captions and Titles
Stickers & Cliparts
Spice up your footage with funny, romantic, or refined cliparts. Use stickers to create a comic strip effect.
Eye-Catching Effects
Use 150+ filters to give your movie a certain feel: an old flick, an action film, a romantic comedy.
Change Footage Speed
Alter the pace of your movie by speeding up or slowing down the original footage.
Video Stabilization
Footage Cropping
Cut the frame to leave out what's unimportant.
Zoom in the footage
to shift focus. Change aspect ratio.
Audio Editing Tools
Get access to 200+ tracks or use your own. Fine-tune audio. Record, edit, and add voice comments.
Cinematic Transitions
Sprinkle your video creation with transitions. Gradients, slides, and splits - there's something for every taste.
Have tons of film ideas? Clipify will help you showcase your movie making talents!
Download Free
For Windows 11, 10, 8, 7
Make Sure Your Movie Reaches Its Audience
The way you want to share your creation with the rest might vary from movie to movie. Luckily, there is no need to search for converters to accommodate all your wishes. This automatic video editing software has all the export formats you require within.