How to Speed Up Certain Parts of a Video with Ease
There are many reasons you might want to speed up some parts of your video - to make an effect of a long-enduring process more evident and dynamic or fast forward a lengthy piece of a clip that isn't important. Whatever reason you have, we will teach you how to speed up parts of your video in a few ways: with desktop software, online, on a smartphone.
First, we will have a look at Clipify, a free video editor jammed with features for both skilled videographers and homemade clip enthusiasts. Then, we will move on to 4 alternatives for people who have different editing preferences. Let's dive in!
Step 1. Install Clipify Video Software
Ready to get started on editing your video? Then hit the button below to download the handy movie maker for free.
Download Free
For Windows 11, 10, 8, 7
Step 2. Open Your Footage
Once you run Clipify on your PC, go to New Project and choose Blank Project. On the Files tab, click Add Videos and Photos to import the clip you want to edit.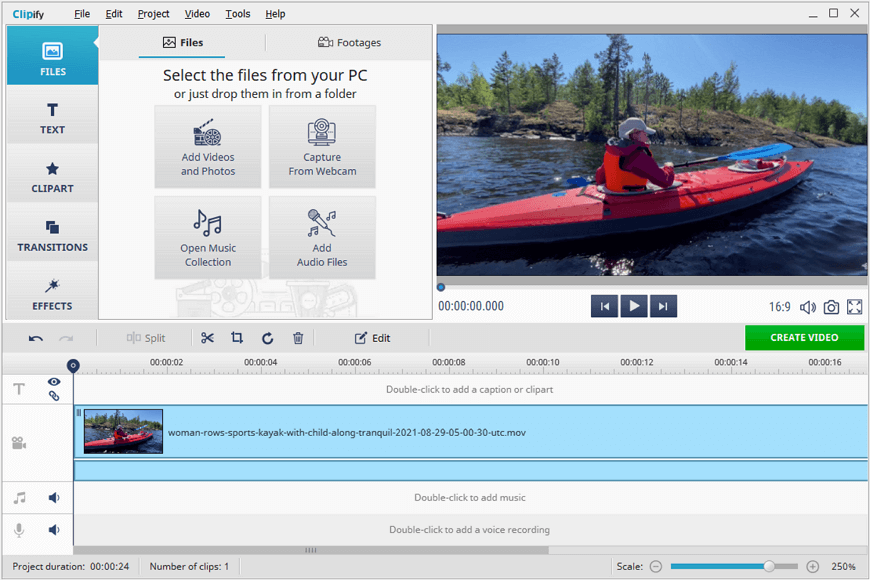 Step 3. Split Your Video into Several Parts
Move the cursor to the start of the video section you want to make faster. Hit the Split button on the menu bar to separate this video piece from the rest of the footage. Repeat this process if there are several portions of the video you would like to speed up.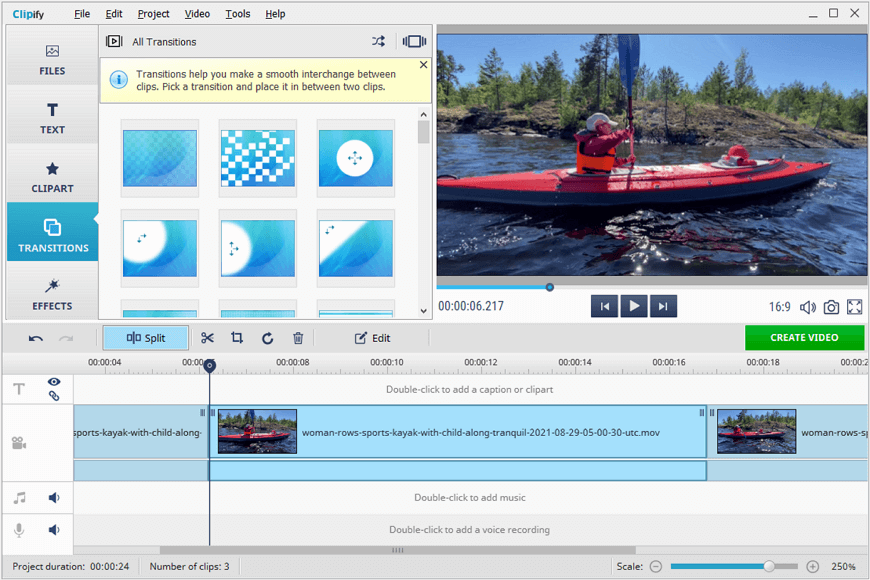 Step 4. Speed Up Parts of Your Video
Select the video piece you want to make faster and click Edit. Switch to the Video Speed tab. Increase the speed of your video by choosing an option from the dropdown list or with the speed slider below.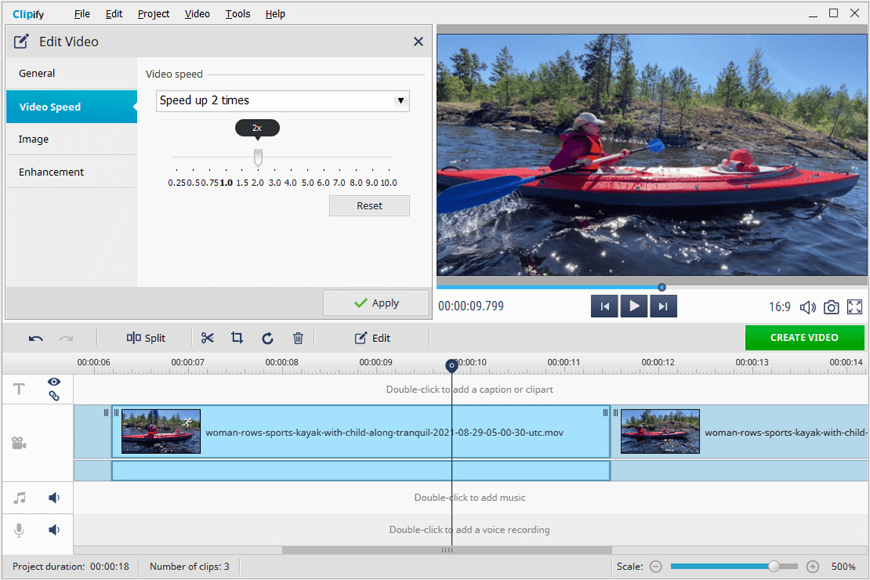 Step 5. Accompany Your Video with Music
Once you increase the speed of your video, the same will happen to its sound. If funny mumbling isn't something you want to have in your video, right-click the accelerated piece on the timeline and mute it. Accompany your video with one of the 250+ build-in soundtracks or use a tune of your own.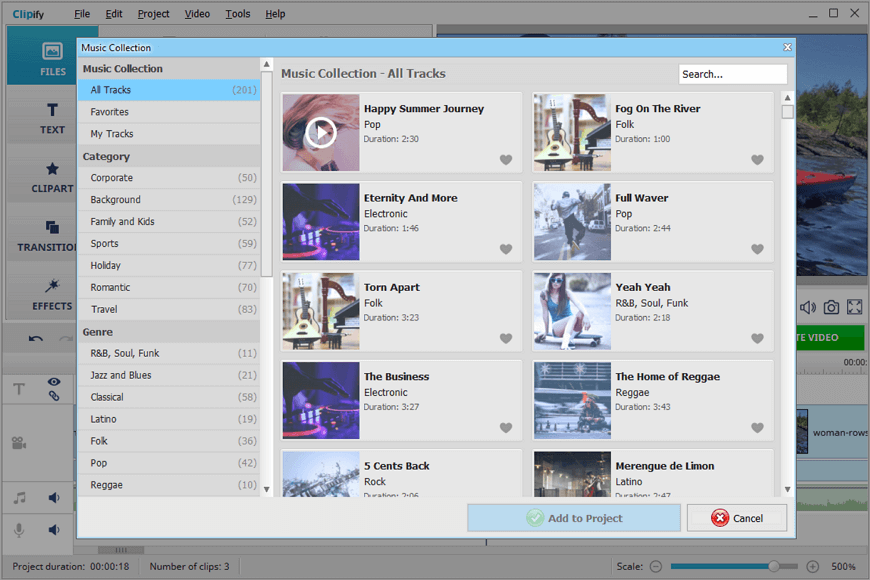 Step 6. Export Your Video
Finished editing your clip? Hit Create Video. You will be able to choose from dozens of export options: for TV, YouTube, and social media. Clipify also allows burning your video on a DVD.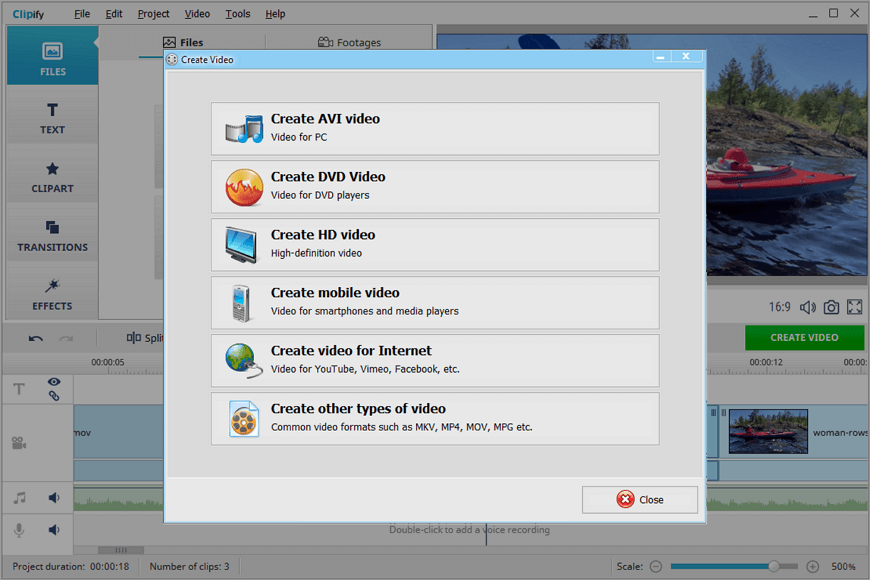 Apart from speeding up a specific part of your video, Clipify helps perform complex tasks as well. For instance, you can use the program to cut pieces out of a video, apply 450+ effects and titles, add a logo to a video, change its background, stabilize shaky pieces, color correct your video, and improve its quality. Check out the detailed tutorial on how to enhance a video to learn more.