How to Lighten Up a Dark Video with Ease
Did you record a video in low-light conditions and now you can hardly see anything in the footage? No worries - it's a common problem, and you didn't do anything wrong. Luckily, this can be easily fixed on your computer or even a mobile phone.
In this article, you'll learn how to lighten a video using a wide range of programs. For starters, we'll help you to edit your video in Clipify. It is free video editing software favored by both newbies and pros. Its intuitive interface combined with professional-grade features make it irreplaceable for any user.
Then you'll get acquainted with some other exceptional tools to upgrade your footage. We've picked several programs for different devices, and we're sure you'll find your best option here. So your video is too dark and you're wondering how to lighten it on your own? Make sure to read this till the end to find the answers. Let's get started!

Now it's time to lighten up your videos. We'll begin with Clipify. Just follow these simple steps and see the results!
Step 1. Install Clipify on Your Computer
Click the button below to download the installation file. Once you install the software, launch Clipify and start your journey with a blank project.
Download Free
For Windows 11, 10, 8, 7
Step 2. Import Your Files
Insert your clips to the timeline by dragging and dropping the files from a folder. Alternatively, you can just click Add Videos and Photos.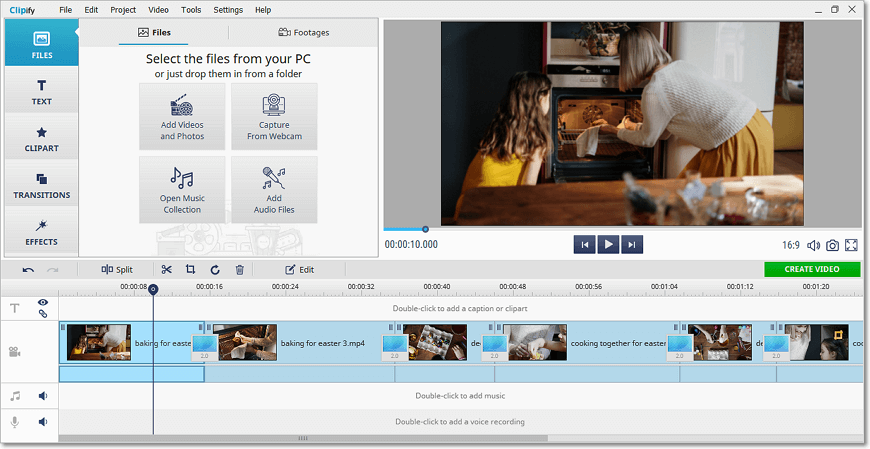 Step 3. Lighten Your Dark Video
To change the settings, hit Edit and switch to the Image tab. Then drag the brightness slider to the right to get the desired effect. The other way is more advanced - check out the Enhancement tab and open Correct Colors Using Curves. Now choose the brightness channel and curve the line to get the best result.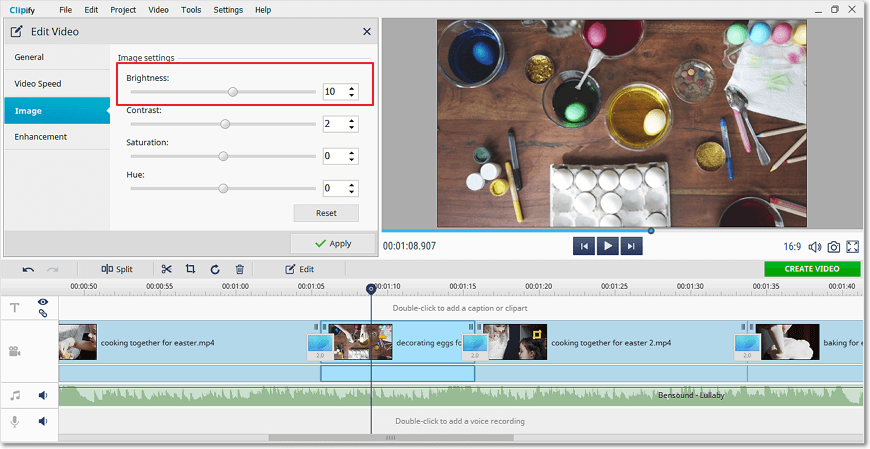 Step 4. Export Your Edited Video
Once you've lightened the clips, make a few additional changes: stabilize them, apply clipart and creative transitions, add music or a voice over. If you're happy with the result, click Create Video to select the necessary format, e.g. AVI, DVD, MP4, HD, mobile video, etc., change the final settings and save the file.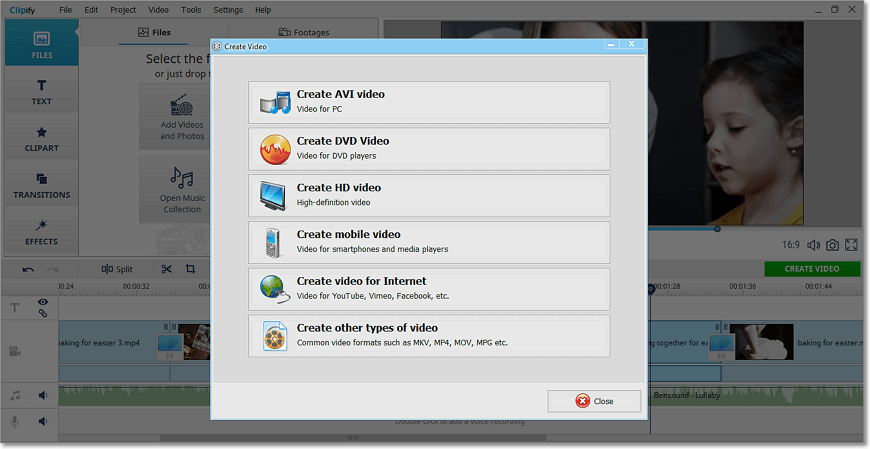 But hang on a minute - don't finish off with editing here! Clipify is feature-rich software with so much more than just tools to edit lighting in a video. Need a title card or subtitles, or want a beautiful quote on your footage? Then make sure to learn how to add text to videos.
For a dreamy cinematic effect you'll probably want to make a video slower. Last but not least, change the aspect ratio of your video to get rid of ugly black bars and perfectly fit the footage to your screen. Another way to avoid black lines in your footage is to rotate videos. It's a crucial step in case you want to share them with the world.
Before we move on to the next part, don't hesitate to watch the video tutorial to figure out what Clipify is like in practice.

As you can see, Clipify has everything you might need to edit a footage on your own!