How To Make Video Greeting Cards: Detailed Guide
Want to surprise your dear people with an unforgettable video present? Then, create a personalized video greeting card. It can be a perfect gift for any occasion: your relative's birthday, a friend's wedding, and even your colleague's retirement. All you need is some clips from your archive, a bit of creativity, and a handy but well-packed video editor.
Doubt that you can make an interactive digital card yourself? Don't worry. In our article, we will show you how to make your own video greeting cards in a few simple steps. To create our project, we'll be using Clipify, a well-equipped automatic video editor that you can easily employ as a handy video greeting card maker. Then, we will tell you about some free and paid alternative ways to do the job on other devices.
Just have a look at this adorable happy birthday video card we have created with Clipify.
Ready to turn your videos into a unique present for your nearest and dearest? Keep reading our detailed guide and explore the best way to perform the task yourself.
Let's now explore several useful tips on how to make a video card with minimum time and effort. Follow the recommendations below, and you'll create a perfect surprise for any occasion.
7 Helpful Tips for Making Video Greeting Cards
Whether you make an e-cards video as a gift for a holiday or to say a sweet hello, there are some crucial things for you to consider. Keep them in mind while designing your personalized video card, and it'll definitely provoke a happy smile on the face of its recipient. Let's look at the tips.
Consider the occasion. It's better to make sure that your celebrative video greeting suits the event. Choose colors, soundtracks, and special effects according to the theme and expected mood. All these essential components will play along to set the desired mood for your significant one.
Keep in mind the recipient. You will need to take into account the interests and preferences of the celebrant. Fill your video with the things that matter to them: favorite places or animals, their hobbies and important achievements. This way, you can make a video greeting card much more personal.
Limit the show time. It can be quite tempting to pack tons of video clips expressing all your best wishes to highlight precious moments. Despite that, it's better to watch your timing. Make your video card no more than five minutes long. So you'll keep the viewers engaged, and they'll long for more!
Add meaningful captions and quotes. Embellish your unique video greeting with some lyrics of the celebrant's favorite song or motivational quotes. Place some colorful captions with your sweet wishes and words of kindness in some parts of your video card to make it remarkable.
Pick a compliant song. It is always a good idea to add some catchy tunes or touching songs to your video greeting. It can make your interactive card speak about your feelings, set the mood of your video, and remind the celebrant of some important moments. To make your video greeting more special, you can add your own voice-over and speak all the kind words and wishes yourself.
Choose the right video resolution and format. Consider the device the recipient will use to watch your video card to let them enjoy it in the best possible quality. Opt for HD formats if you plan to show your celebrative video on a TV screen. Or optimize your greeting card for a slow Internet connection if you are about to send your artwork via your social media accounts like Facebook or Instagram.
Pick the right software. A user-friendly and well-packed video editor can be a real time-saver. Direct your attention to Clipify. This handy software will help you create stunning video greetings in no time. You can design your e-cards from scratch or use the Video Wizard to make them in a few clicks.
3 Creative Ideas for Making Video Greeting Cards
Feel like you need some inspiration before you start creating your unique video present? Then have a look at these amazing video cards we have designed with Clipify.
Make a special greeting card for the wedding day of your friend
Use several short videos to tell their beautiful love story
Complete the video card with sweet words and kind wishes
Add some instrumental music or the newlyweds' favorite song
Use beautiful transitions between clips in your adorable video
Create a greeting card to celebrate the graduation of your child
Mix several memorable clips to show a story of the school leaver
Decorate your video card with funny stickers and creative captions
Record your own voice-over and speak out your best wishes to your kid
Add meaningful titles and several motivational quotes to the card
Make retirement greeting cards for your elderly colleagues
Include some short video clips from your corporate events
Record a few videos of your colleagues saying kind words to the retiree
Jazz up your touching retirement video card with a couple of songs
Personalize your video card with some beautiful cliparts and captions
You've just seen great examples of personalized video greeting cards for 3 popular occasions. Feel inspired enough to create your own artwork? Then it's time to dive into our detailed guide.
How To Make Video Greeting Cards: Tutorial
It's time to see how you can create a unique present for your nearest and dearest all by yourself. For this, we'll be using Clipify. It's an uncomplicated video card maker that can help you turn your clips into awesome artwork with more than 450 special effects, transitions, captions, and other artistic elements. Besides, it has a handy sound-editing tool that you can use to add music or record your own voice-over to your video gifts.
Step 1. Install Clipify on Your Computer
Hit the orange button below to download the program. Then install it on your PC following the prompts of the wizard, it will take you just a couple of minutes. Run the software.
Download Free
For Windows 11, 10, 8, 7
Step 2. Open Your Videos in the Program
Start a new project, then click Add Videos and Photos. Pick all the clips you need and add them to the timeline or just drag and drop them one by one into the editor. You can also change the order of your videos by moving them on the timeline.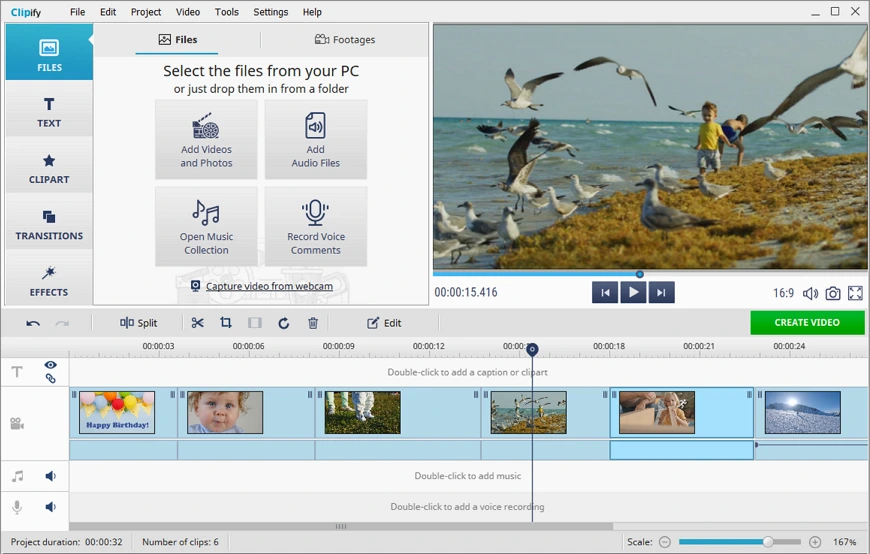 Step 3. Make a Video Greeting Card
Begin with adding a few captions. Switch to the Text tab and browse through the pre-designed fonts. Double-click the one you like most and type in your text in the pop-up menu. Then customize your caption to your liking and apply some animation effects to it. Finally, place your caption on the timeline and set its duration.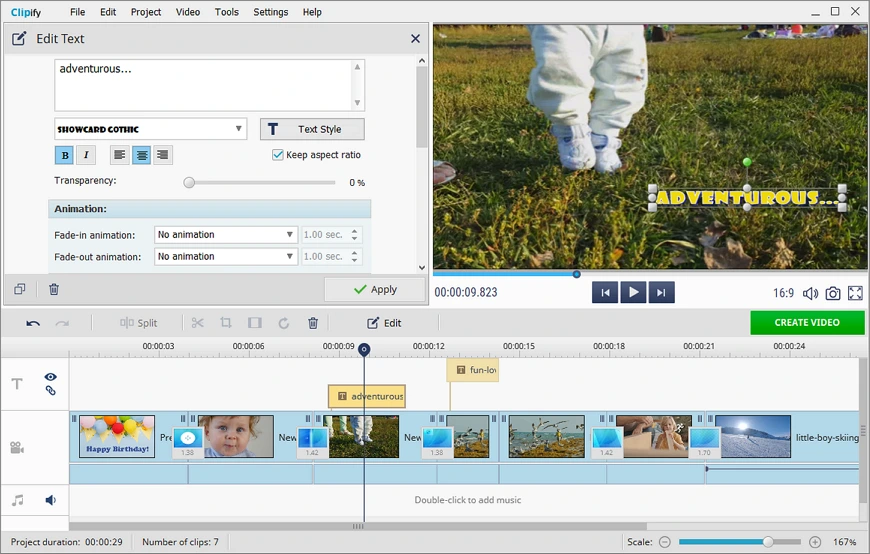 Step 4. Embellish Your Artwork With Stickers
Go to the Clipart tab to pick a sticker from the editor's built-in library. Alternatively, you can import your own image and use it as a sticker too. Double-click the sticker layer to adjust its settings. Add an animation effect to it. You can also type in some captions over your stickers.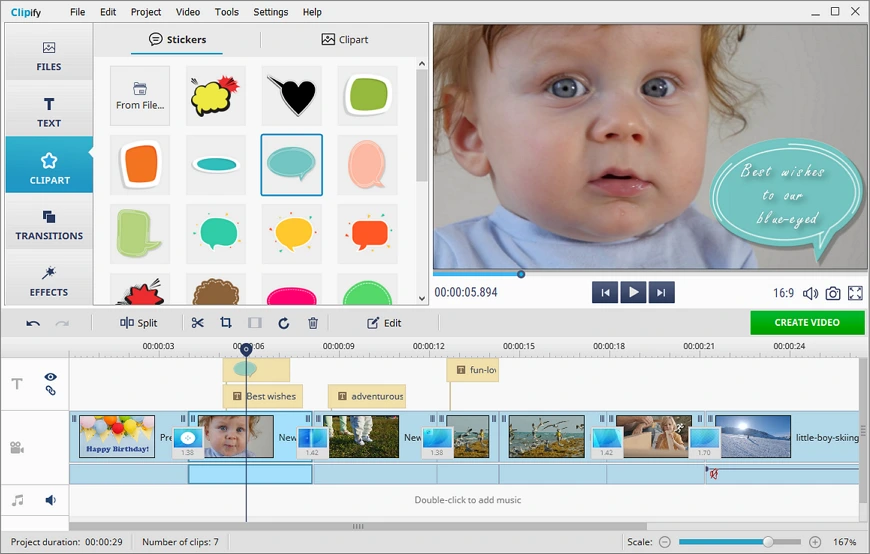 Step 5. Choose Transitions and Effects
Make your video clip more engaging by applying dynamic transitions. To do that, move to the Transitions tab and pick the effect you like most. Drag & drop it to your video or double-click the chosen transition to apply it to your clip. Then navigate to the Effects tab, choose the most suitable special effect and add it to your video card.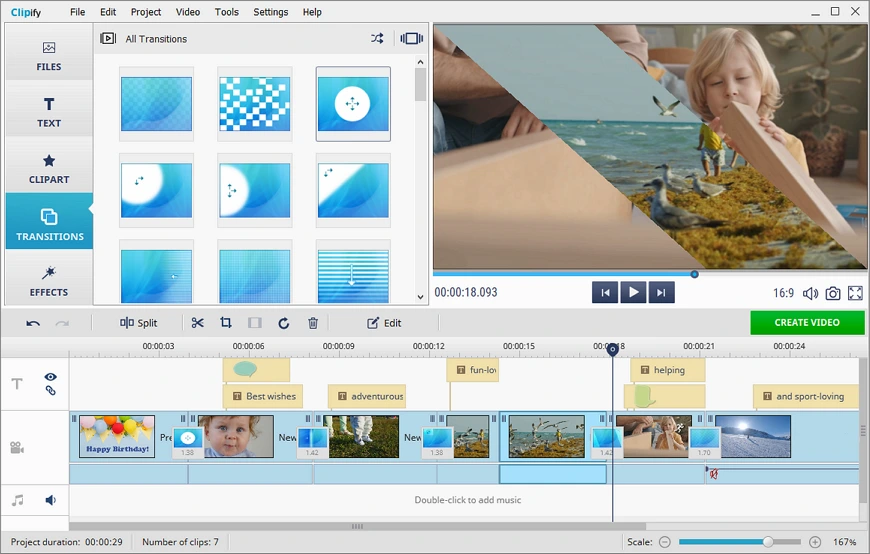 Step 6. Add a Soundtrack or a Voice Over
Click Add Audio Files to pick a song or a recording from your PC library. Alternatively, click Open Music Collection to choose a tune from the extensive music library of Clipify. You can also record a voice-over within the program using the Audio Recording tool.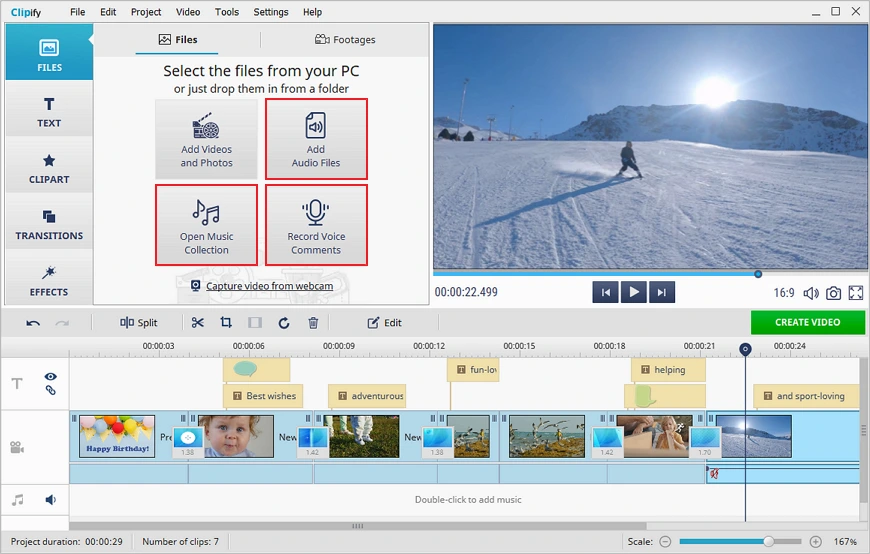 Step 7. Save Your Video Greeting Card
Like the result? Then hit the Create Video button to export your greeting card. Be sure to go with the right format. You can opt for the universal MP4. It'll preserve the best quality and won't take up much space on your hard drive. Or go with an AVI video for PCs or an HD clip for big screens. You can also choose among formats for mobile phones and social media.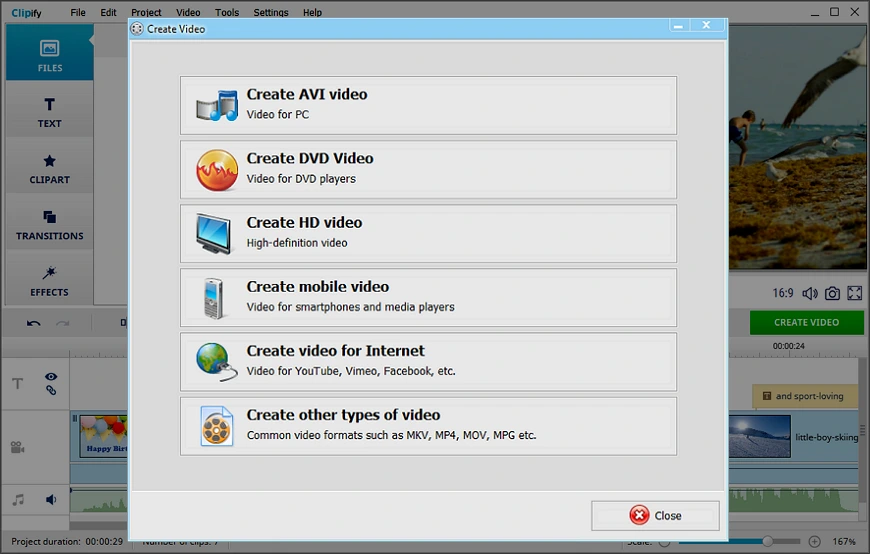 Making beautiful video cards is not all you can do in Clipify. You can also employ this powerful video greeting card maker to color-correct your clips or make your video brighter. In case you want to draw your viewers' attention to special moments in your short film, use Clipify to zoom in on your clip or slow down certain parts of your video. You can also add your own logo or even put a picture over your video to protect copyrights, promote your brand, or embellish your clip.
Want to bring your kind wishes to life and embellish your short movies in the best possible way? Cast a glance at the video tutorial below and explore the rich toolkit of Clipify!

Now you are ready to unleash your creativity and make any thematic video card you want.