How to Record Messenger Video Calls
in High Quality
Facebook Messenger is one of the most popular services used for free instant messaging and audio and video calls. With the rising number of remote workers, this Facebook app has been widely used for online meetings as it lets you have face-to-face conversations with up to 50 people and even share the screen during the call. The messenger also comes in handy for congratulating a loved one online or having group video chats with friends living abroad.
But you might need to save a video call for lots of different reasons: to share it with a coworker who missed a meeting, to provide a report on the work done, to record an informative webinar, or to save a part of your chat with a family member. Unfortunately, Facebook doesn't have a special tool for it, so you'll need to use a third-party tool. While searching for one, you'll encounter lots of screen recorders that compress the footage reducing its quality, only record videos with sound off, or have other kinds of limitations.
So can you record Facebook video calls in high quality? You certainly can! In this article, you'll discover the best solutions to do it on Windows, Mac, Android- or iOS-powered smartphones, and even online. We've tested each way and are ready to tell you everything you need to know about the top 6 screen recording programs that include both free and paid options. Don't worry if you've never done anything like this before. We'll give you step-by-step walkthroughs on how to record Facebook Messenger calls in each app.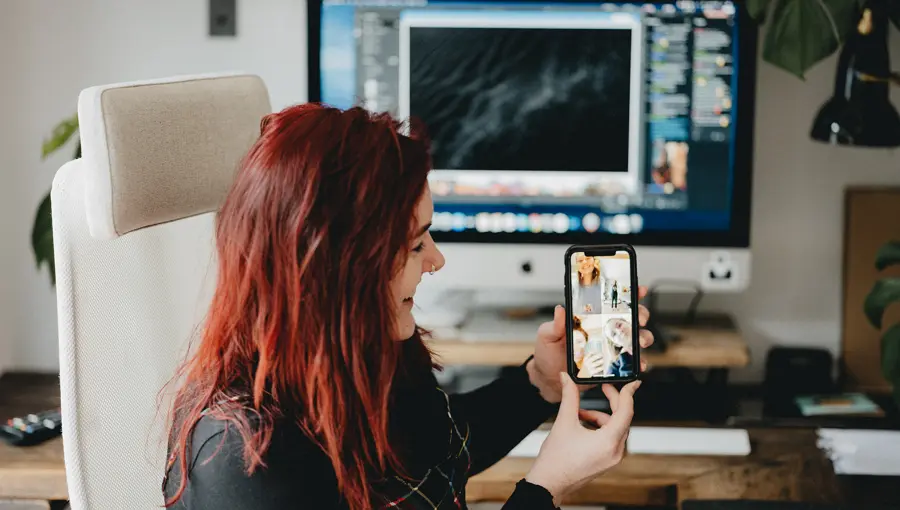 Already eager to get started? Then let's get armed with one of the best 6 programs and figure out how to record Messenger video calls right now!
1. How to Record a Messenger Video Call on the Web
Veed.io is an online video editor that also features a screen recorder. There are several recording layouts you can choose from. For example, you could only use the webcam, record both the screen and yourself, or turn off the webcam and record the screen alone. During a session, the Facebook Messenger call recorder also lets you mark things on the screen with the pencil tool and add sticky notes to type in some key points.
You can share the video with others simply by sending them a link - there is no need to upload the heavy file to cloud storage or a memory card. However, the Internet-based program has a time limitation - you can only record an hour-long video call or shorter. If you don't mind that, follow these steps:
Open the website, select one of the recording modes, and click Start Recording.
When done, preview the video and hit Copy Link to share it with others. You can also save it on your laptop or phone by clicking the Download button.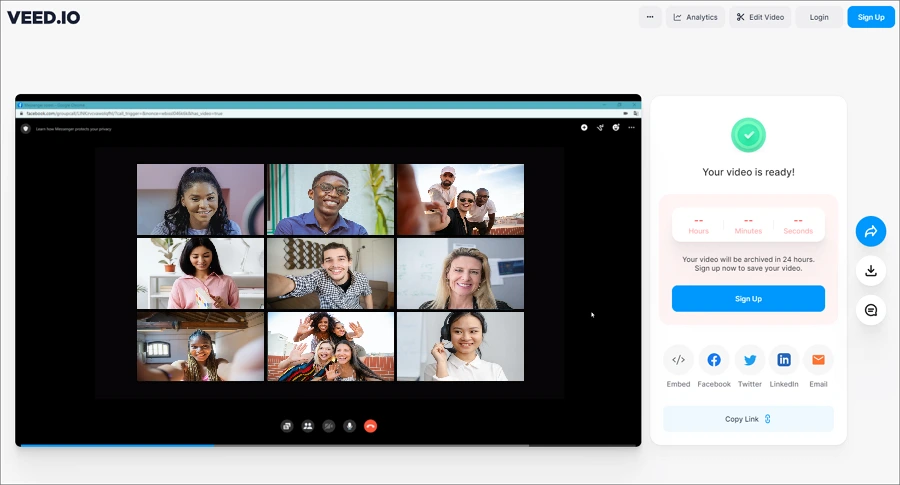 2. How to Record Facebook Video Calls on Android
AZ Recorder will work best for you if you're going to record video meetings on an Android device. Apart from recording Facebook Messenger calls, you can also do a time-lapse, compress the output video, take screenshots, etc. AZ Recorder supports HD, Full HD, 2K, and 4K. In the Settings menu, you can also adjust such parameters as Orientation, Countdown before start, and Frame rate. Besides, the app doesn't leave its watermark on the footage and sets no time limits. Here's what you need to do to record Facebook Messenger voice calls on Android.
Install the app on your smartphone. Start recording by tapping the video camera icon and hitting the Record button.
To pause or finish recording the screen, swipe down and hit the corresponding button in the notification bar.
3. How to Record Facebook Messenger Calls on iOS
As an Apple user, you can try Record it!, a mobile program available on the App Store for free. When the video call is recorded, you can change the canvas and background color and add an adjustable video commentary - Record it! allows you to select its shape, size, and placement.
Unlike many other screen recorders, this app stores your previous recordings, so you can always get back to them and organize the video library the way you want. To record a Facebook video meeting on your iPhone, follow these steps:
Start the Messenger video recorder and tap the red button to begin the session.
When the video chat is over, hit Stop Broadcast. If you'd like to add a voiceover, tap Commentary, and for video comments, use the FaceCam feature.
Now save the file - you can export the video onto your device or post it directly on YouTube.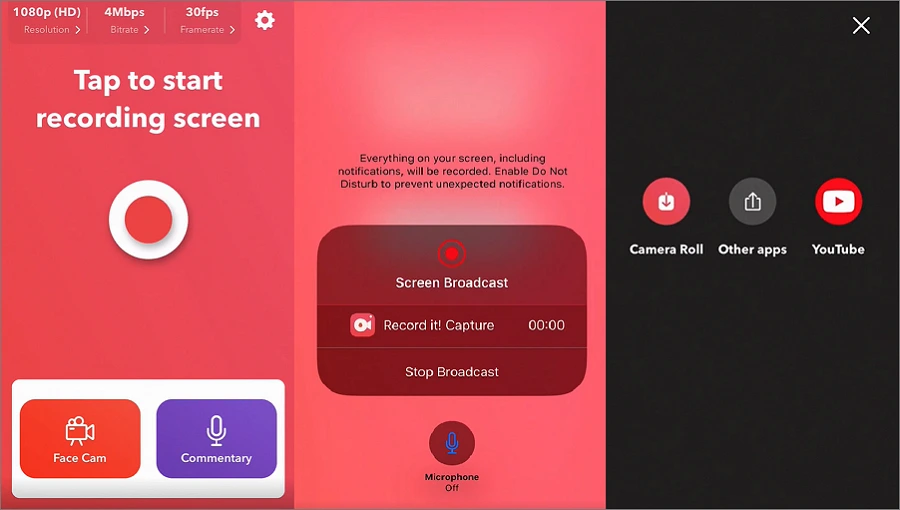 Searching for a beginner-friendly tool to edit the screen recorded video of a Facebook call? Here's an automatic video editor for PC you can give a try.
4. How to Record Messenger Calls Online
Using Clipchamp, a web-based service for video montage, is yet another way to record voice calls without installing anything on your computer or phone. This tool has a couple of customization options, such as resizing, rearranging, adding a logo, and changing the orientation. But the recording can't last longer than 30 minutes, so you'll have to make multiple short videos to merge them afterwards. You'll also need to sign in to use the tool. Here's how you record a video chat with Clipchamp:
Sign in and click Record something. After that, select Screen or Screen and camera. To record a video call with audio, click the microphone icon. Hit the red button to begin recording.
Play the footage and hit Save and edit.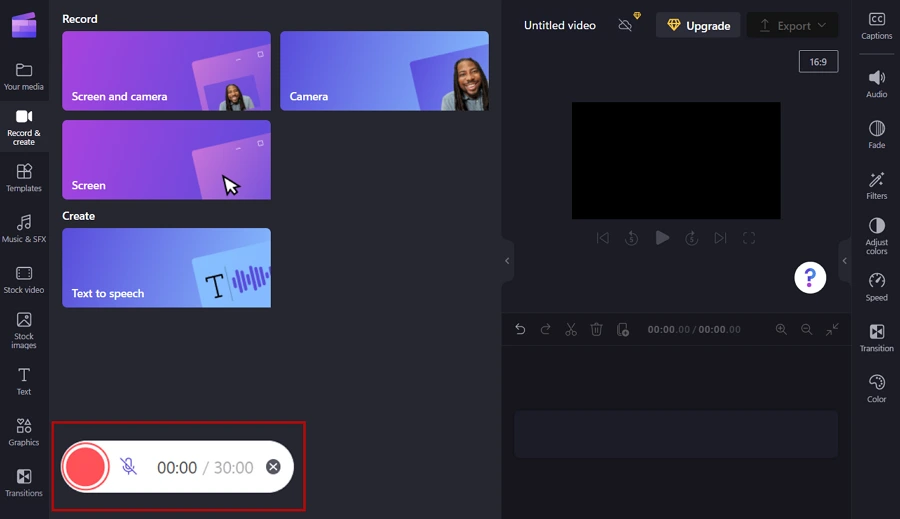 5. How to Record a Facebook Video Chat on Mac
If you are a Mac user, you don't need to download anything - Apple computers and laptops come with a free built-in screen recorder. Although there aren't any video customization tools available, it can work perfectly for recording Messenger video calls. But if you're running out of storage, it might stop recording in the middle of the session. Is there enough memory on your Mac? Then read on to learn how to use the embedded screen recording tool.
Press Shift, Command, and the 5 keys to use the Messenger call recorder.
In the floating toolbar, you'll find a few recording modes: you can take a still screenshot, record the entire screen, or a part of it. If you're recording a certain area of your screen, click and drag the selection edges around the part you'd like to save.
Click Record to start the session.
To stop recording the Facebook video call, press the circle button with a square in it - you'll find this button at the top of your Mac's screen.