How to Stabilize a Shaky Video - Best Ways in 2023
Unless you are making a horror movie or an action flick, shaky footage is an annoyance. It's hard to make out what's on the screen, and some viewers might even feel sick. So how do you fix that and make your footage usable? Why, by stabilizing your video, of course!
Despite how fancy it sounds, there is nothing too difficult about it. In this article, you'll learn how to stabilize your video in a snap. We'll be looking at a handful of ways so that you have something to choose from. We'll tackle solutions for PC, Mac, iPhone, online, and whatnot. So if you are ready to make your footage steady and clear, let's dive in!

Way 1. Stabilize Your Footage with Clipify
If you think that the video editing solutions have to be overly complex and expensive, then Clipify will prove to be a pleasant surprise. This free software is so easy and intuitive that a complete newbie will get the hang of it right away. And if you are a seasoned videographer, you'll love its many nifty features like Curves, Chroma Key, and of course video stabilization. Let's have a look at how to use the last one.
Step 1. Run Clipify on Your Computer
First, click the button below to download this free video editor. Follow the wizard prompts to install it to your PC, then run it.
Download Free
For Windows 11, 10, 8, 7
Step 2. Open Your Shaky Footage
Start a new project, then click Add Videos and Photos. Pick your shaky clip and add it to the timeline.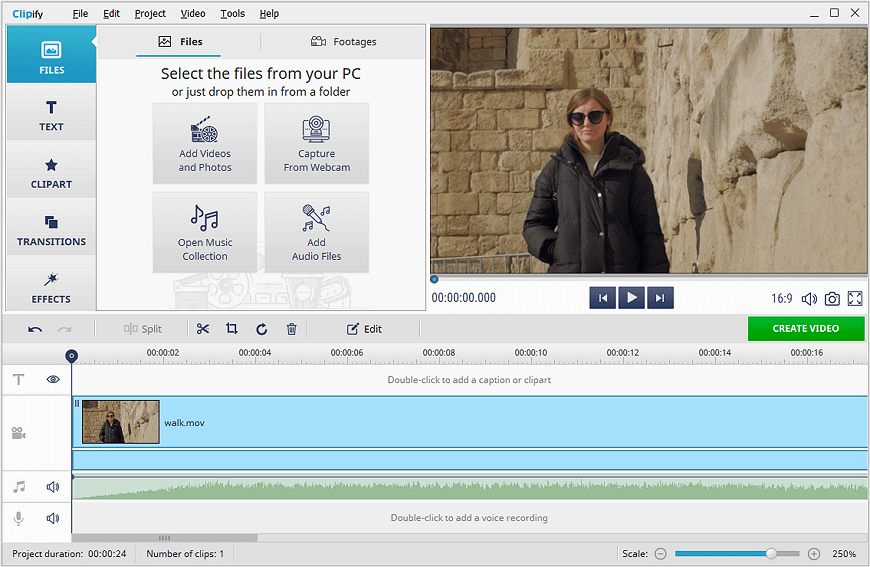 Step 3. Stabilize Your Video
Now, right click your clip and choose Edit. Switch to the Enhancement tab and click Image Stabilization. Apply it and you're done!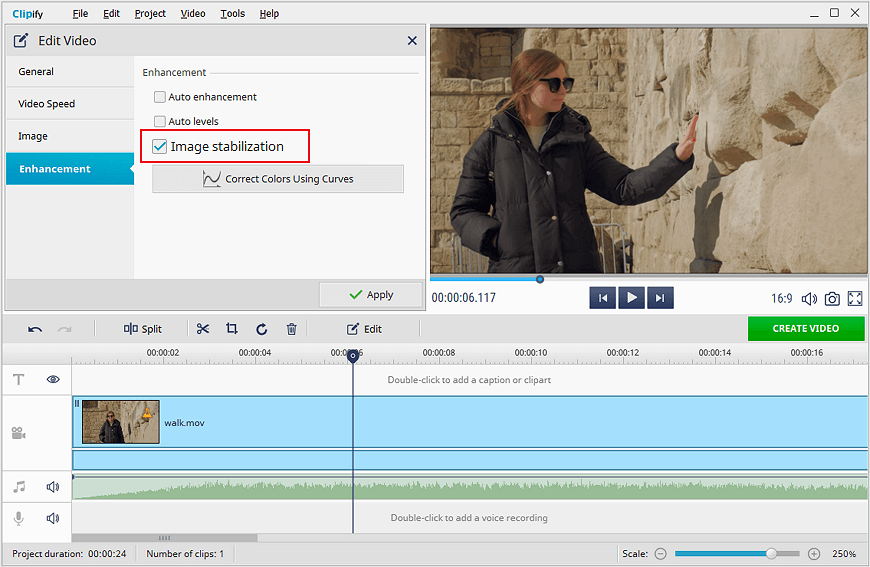 That was surprisingly simple, wasn't it? And that's what Clipify is all about. It gives you easy tools that still provide professional-looking results. What else is this free software good for? For starters, you can use its automatic feature to create cool-looking movies in a snap. Besides, you can add a logo to a video, change its speed, voice over your video, and get access to hundreds of effects, transitions, and titles that will give your movies a true Hollywood flavor. Other features include a Chroma Key tool, color correction instruments, and a 200+ music track library.